Church Service - 01.04.22
Church Service - 01.04.22
29 March 2022 (by Patricia Page (admin))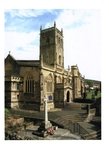 Dear Parents / Carers,
We would like to invite you to join us in Church this Friday, at 9:15am.
We will be enjoying a special Easter service, where we will be handing out our termly certificates, as well as taking the opportunity to enjoy a last service with Mrs. Richardson. So please bring your singing voices!
We are hopeful that you are able to join us there to celebrate Easter and to wish Mrs Richardson the very best of luck in her new role within the Wessex Learning Trust.