Collective Worship Leaders
Our Collective Worship leaders are chosen each year and support the school in leading our whole school gatherings.
There are members from across the school.
What do Worship Leaders do?
The children lead a Collective Worship each term, on a theme that they are passionate about

They contribute to the hymns and prayers we enjoy

They contribute to the visitors we invite into our Collective Worships

They wear a special badge on their uniform to let other children know they are Worship Leaders and they can speak to them about Collective Worship.

They may help to tell stories and act during worship (but all children have an opportunity to do this if they wish to).

Worship Leaders help select a child from the school for demonstrating the school's core Christian values each half term.

They help the Collective Worship Leader to plan worship themes.

They share their news with the school on their own Collective Worship board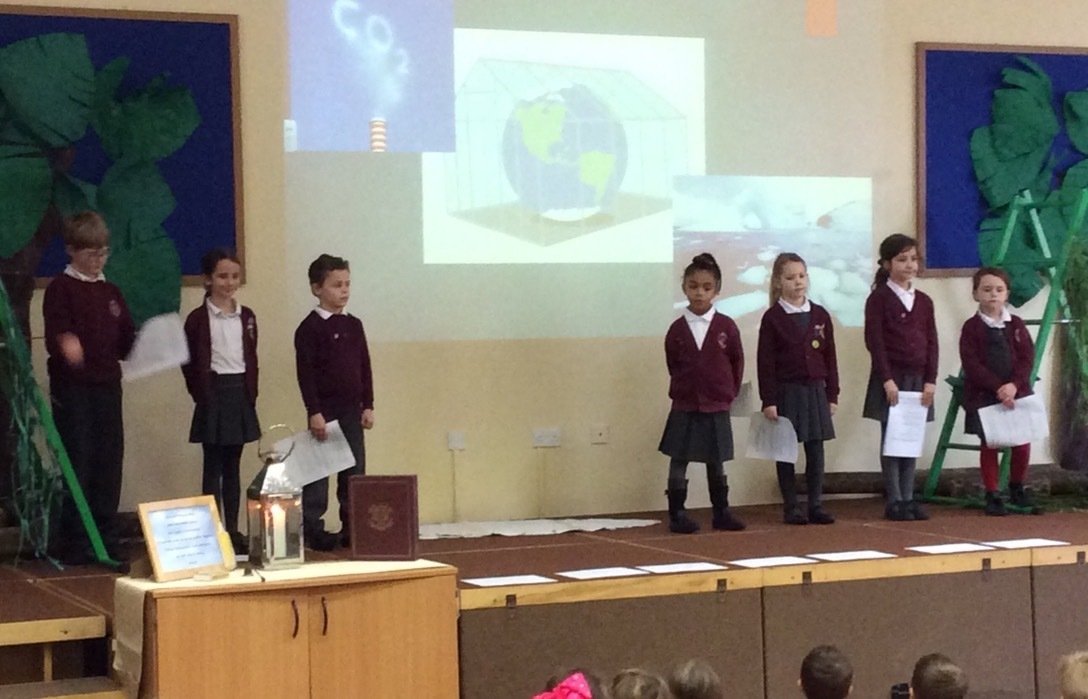 This is a photograph of the Collective Worship Leaders delivering an important message about climate change to the rest of our school and their parents.
Click here to see the script from one of our Collective Worships. It was called Fumes or Futures.
This year, our Collective Worship Leaders wanted us to say the Lord's Prayer more often:
Our Father in heaven,
hallowed be your name,
your kingdom come,
your will be done,
on earth as in heaven.
Give us today our daily bread.
Forgive us our sins
as we forgive those who sin against us.
Lead us not into temptation
but deliver us from evil.
For the kingdom, the power,
and the glory are yours
now and for ever.
Amen.